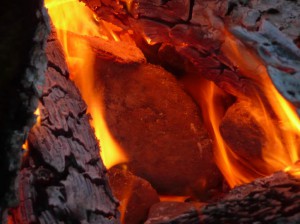 Star-Stone Essence-SHE…
O Maiden of the stars…
Come ye unto the stones…
…and Be at Home…
Far have ye traveled…
and there is yet a ways to go…

The sweat lodge (Inipi – lakota: they sweat) is an ancient sacred purification ceremony. The sweating and praying in this sacred space leads to a cleansing of all bodies: physical, emotional, mental and spiritual. You get cleansed internally and externally and you experience a reunion with the universal creative forces.
The sweat lodge is an igloo-shaped space made from willow or hazelnut branches which is covered with woollen blankets. From the fire red glowing stones are being carried into the central pit of the sweat lodge and water is being poured over the stones during the ceremony.
The shape of the sweat lodge is similar to the belly of a pregnant woman lying on her back on the Earth. In this way she symbolises the womb of Mother Earth into which we return during the ceremony. Her space offers us the protection and comforting security which is needed in order for us to be able to engage fully, to let go, and to surrender to the forces. We connect with the forces of creation, the elements, the stars and planets, we pray and sing – for us and others. Through the ceremony we experience a deep purification and renewal, and at the end emerge reborn and full of power from the belly of Mother Earth.
A personal count of a participant
SHE…does make a journey…
from the stars…unto the stones…
SHE…does come a ways…
as a carrier of love…
Essence…sounding from untold realms…
here…to open wide the door…
I was "called" by the sweat lodge 2008. I followed the call, built my own little sweat lodge and learned from her and the forces. I have experienced various sweat lodge traditions and was touched in various ways as well as inspired. Thus I don't follow any particular tradition. I open a space, in which you can connect with all worlds and forces and yourself, so that you, having been reborn, radiate in beauty and power.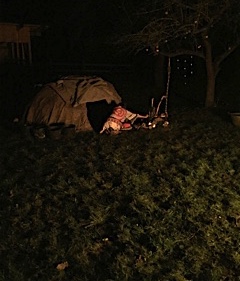 I offer sweat lodges
at the place of magic soul in Germany as well as at other appropriate places
for everybody – the common mixed sweat lodges, purely women sweat lodges, sweat lodges for managers, sweat lodges for children, sweat lodges for couples
for a range of reasons – resolution of old patterns, transformation of fears and blockages, discovery of new solutions, implementation of visions
Healing sweat lodges (for individuals and groups)
in every season (solar and lunar festivities of the year)
connected to astronomical events (full and new moon, solstices)

To bring:
2 fire resistant stones (which want to come – ask before you take them!), ca size of a handball
power object
2 (big) towels, bath robe (if desired)
something to eat post sweat lodge
enough to drink
lighter
sharp knife
2 giveaways (for dance and fire chief)

Beauty-SHE and HE…
embrace the Universe…
And full they are…
with stars and moons…
reflections of the world within…


Requests to Nicoline Eicke at
dahema@magic-soul.de or +495673 6876